Welcome to our website. Please see below for current timeframes.
Welcome to our website and our online Gallery of Sculptures. We create beautiful wooden sculptures for display outdoors. These are all handmade and created new to order. All of our pieces are displayed in Gallery 1. We also have a Commissions and Wall Art page. Please browse our online Galleries and feel free to email us with any questions you have.
All our sculptures are original designs that have been made individually by hand with Treated Pine coated twice with quality exterior furniture oil. Each piece comes with a steel spike, ready to display in your garden. They will last many years outside providing they receive regular oiling. Our pieces can also be modified for indoor or Wall display. We have a range of designs to choose from and also welcome commissions and create special custom pieces to order. Each piece is inlaid with our Unique Die cast Logo and made new to order.
We look forward to making a beautiful piece of art for your home, garden, school, workplace or as a gift
Thanks Megan and Pete
2022 ORDERS UPDATE
We create each new sculpture by hand to order and this takes approximately 20 working days to make and complete. If your order is a gift we can email through a note-card that says "a special piece is currently being handmade, just for you and will arrive shortly", so you have something to give on the day. If you would like to know the estimated delivery time before ordering, please email us. Thanks again for your custom, Pete and Megan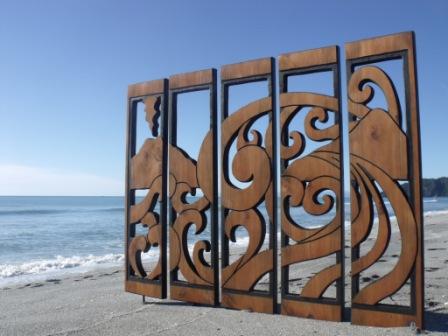 Flight - White Island Panels by Pete Collins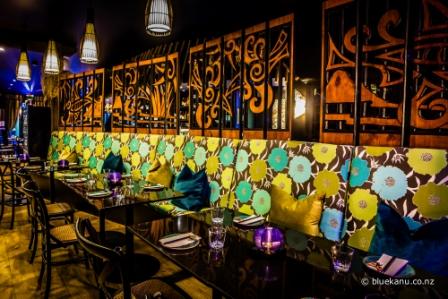 Flight Panels - by Pete Collins
At the fantastic "Blue Kanu" Restaurant in Queenstown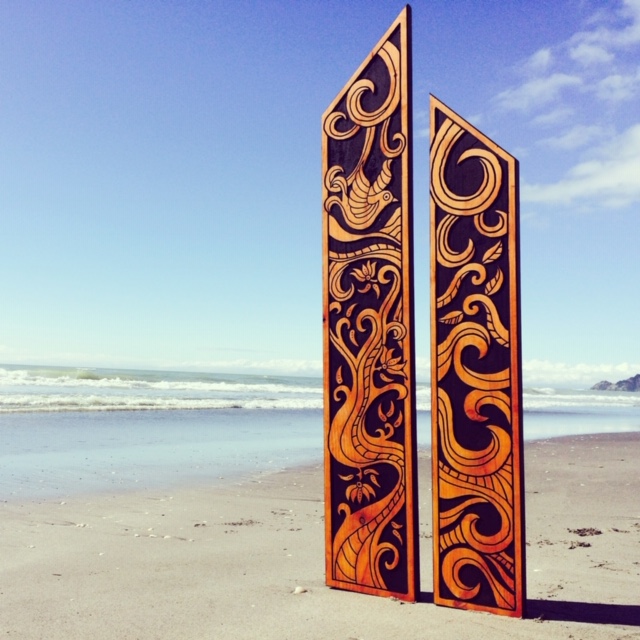 To Purchase Our Work Online